Smoke alarms for homeowners
Helping you comply with the latest legislation
Correctly fitted heat and smoke detectors save lives. Each year, residential fires cause about 30 fatalities and 1300 injuries. Previously, private rental houses had to install fire detection and warning systems. However, new legislation requiring linked smoke alarms in ALL HOMES became effective in February 2022. The goal of this new legislation is to guarantee that everyone in Scotland, regardless of whether they own or rent their property, has a same level of fire safety.
!We strongly recommend installing the required number of smoke alarms and heat detectors at the earliest opportunity.!
The two main types : wireless and mains-powered (hardwired)
Each have their own benefits but both are good at keeping your family safe from fires. If you are not sure which type of smoke detector is right for your home, please get in touch and we can advise you.
Interlinked Wireless Smoke Alarms
Wireless interlinked long life, lithium battery smoke alarms are not the same as user-replaceable battery smoke alarms. They are special tamper-proof smoke alarms and come with a 10-year guarantee. The expiry date should be visible on each alarm. This type of smoke alarm tends to be more expensive to buy but because they have no wires, they are usually cheaper to install.
Interlinked Mains-Powered Smoke Alarms
Interlinked mains powered (hardwired) smoke alarms and heat detectors are still a good option for many people as they don't rely on batteries. These smoke alarms tend to be cheaper to buy but can cost more to install as they have to be wired into your electricity supply.
As of February 2022
all homes in Sotland require:
✓ One smoke alarm installed in the room used for general daytime living purposes
✓ One smoke alarm in every circulation space on each storey, such as hallways and landings
✓ One heat alarm installed in the kitchen
✓ All alarms should be ceiling mounted and interlinked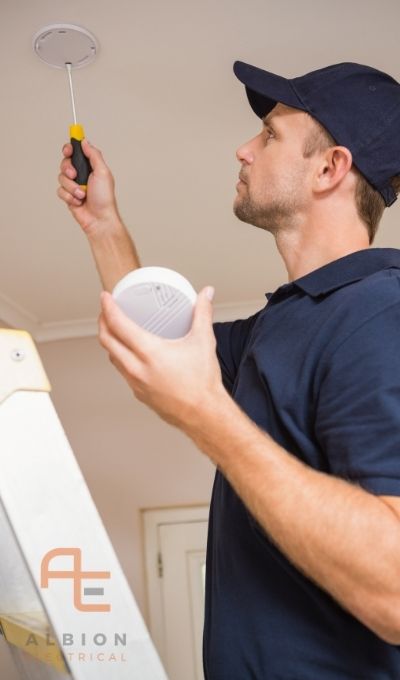 Smoke alarms for landlords
If you are a landlord in Edinburgh it is a legal requirement that you have the correct arrangement of mains wired smoke alarms and heat detectors installed in all of your properties.
The Scottish Government have published guidance for landlords Fire detection in private rented properties.The guidance states that there should be:
✓ A smoke alarm in every room used for daytime living
✓ A smoke alarm in every hallway
✓ A heat alarm in the kitchen
✓ All alarms should be interlinked. Please be aware that if the property is an HMO (house in multiple occupation) there will be extra fire safety criteria to meet.

Albion Electrical can provide landlords in Edinburgh with a range of landlord services to ensure compliance with all current fire and electrical regulations.
We can fit mains wired or long-life lithium battery smoke alarms and heat detectors. We can also carry out Electrical Installation Condition Reports (EICR) and PAT testing.
Frequently asked questions
If you would like

Albion Electrical

to install long-life lithium battery or mains powered smoke alarms and heat detectors in your property, please get in touch.
We have years of experience in this area and will be able to ensure your home or rented property has the correct fire detections systems in place and is electrically safe.